Dan's Web Page
Domestic Short Hair / Mixed (short coat) : : Male (neutered) : : Young : : Medium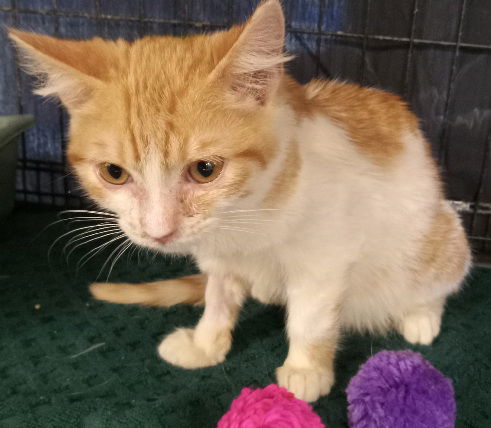 I would love you more than you can imagine.
Please adopt me!
Print an adoption flyer for Dan!
Please Note: This animal is listed as a courtesy to another organization. Please be sure to contact the foster/caretaker for more information about him.
Leo Feline Foundation
www.leofelinefoundation.org
leofelinefoundation@gmail.com Desert Hills, AZ 85086
About Dan

Status: Available for Adoption (adoption info)
Adoption Fee: 175
Species: Cat
Rescue ID: 23-0009
General Color: Orange and White
Color: Bicolor
Eye Color: Gold
Current Age: 9 Months (born on 12/10/2022)

Fence Required: No
Declawed: No
Housetrained: Yes
Obedience Training Needed: Has Basic Training
Exercise Needs: Not Required
Grooming Needs: Not Required
Shedding Amount: Moderate
Owner Experience Needed: Species
Reaction to New People: Cautious
Dan is a sweet little boy! He is vocal about his dinnertime. He is a gentle and somewhat shy kitten but likes to play. He has not been around dogs or kids so we suggest only very gentle animals and humans. He goes crazy for wet food.
More about Dan
Good with Cats, Good with Adults, Somewhat vocal, Does not require a yard
Leo Feline Foundation is an Arizona registered 501(c)3 non-profit cat rescue